Choosing Your eTray Design
Welcome to the eTray Gallery where you can browse through the eTray designs.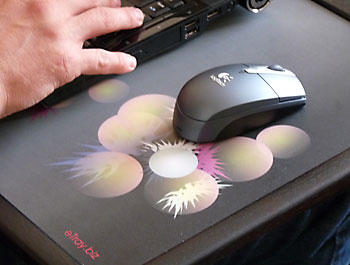 The eTray deck pattern is a high quality inkjet print made using archival grade pigment inks on photo paper, and the pattern is guaranteed to stay bright and beautiful for many years. The print is laminated with soft vinyl textured material which is both scratch resistant and very hardwearing. Its textured surface is similar to a mousemat's and provides precise tracking for a laser or optical mouse.
From the gallery below you can choose from a number of unique, limited edition, collectable designs. There are geometric patterns, photographs, computer generated fractal designs and, newly introduced, plain colours available.
Or, if you prefer, you can:
Click on a pattern to get more information: